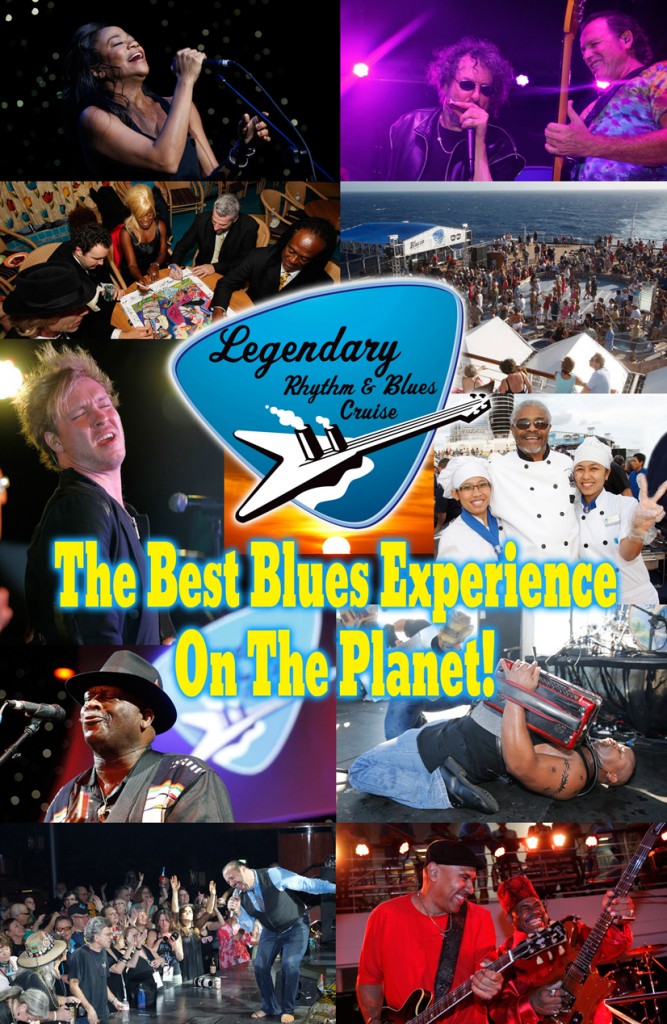 "It's not Disney World. It's about people relaxing, enjoying themselves, and spending time with others who enjoy the same kind of music as they do. It's amazing how people can really connect through the Blues and R&B. Every year you can set your clock by it."
– Taj Mahal, Multi-Grammy Award Winner
---
"When I was on the February, 2019 Blues Cruise I found myself thinking, 'What did I Ever do in a previous life—right or wrong, to deserve this!? How could I be so fortunate to have this much nonstop fun, and to listen to/watch so many amazingly talented musicians!?' I know I said this to various friends, new and old, on the cruise and to many other friends/acquaintances since then. While on the 2019 cruise, I realized I would find a way to be on the next winter cruise–no matter what. I am so excited for next January's cruise. I can't thank enough, all the artists/musicians onboard and those who organize the Legendary Rhythm & Blues Cruise. What an amazing adventure!"
– Becky R
---
"This blues cruise was better than Woodstock!"
– Johnny Winter, 2010
---
"The Cruise was so great that it seems like a dream. Waiting a year is going to be really tough. It was one of the peak experiences of my life. I can be shy and it was so much easier to connect with people, especially after my programs, than it is in the "real world." And those people are always nice and friendly (Cruiser Hugs are a beautiful thing), usually affluent and love blues; how good can it get? Plus the pampering, all the old and new friendships, the often truly inspired music… it was beyond fantastic and I thank you as profusely as I can for the opportunity and hospitality!"
– Dick Shurman (Award-winning producer and writer, 25+ years)
---
"Well, you did it again… I said it during our show, but in the event that you didn't hear, I want to say it here… For two weeks a year, you, single-handedly, do more than anyone else on the planet to keep the Blues alive. In fact, throughout the year I believe you are actually doing more than anyone I know to keep the fire burning.
Last year I was so overwhelmed by the whole experience. Returning this year (and knowing a little more of what to expect), I felt more able to take the experience in as "spectator", as well as a Performer. The Booking, the Scheduling, the whole vibe. I've been around the entertainment business my entire life, Roger, and I say to you here, my friend, that I have not known many that could or would pull something like this off, the way you do.
The choices you make, the atmosphere you create, quite unique and, I dare say, Historic… I don't know where to begin, when I tell people about the booking feats you pulled off (both World Famous & Niche)… Honeyboy, the Winters, Lobos, Theodis!!! Everywhere I went, I not only witnessed moments that I will hold dear, but saw so many others having their own revelations, as well.
Some of my personal highlights: Cedric & Malcolm absolutely blew my mind! I immediately made it mandatory that the Band all see them. Same with Eric Bibb -a dude I'd run into many, many, times, and never seen perform. Another mandatory "must see" for the band…
Lobos are, of course, an L.A. Institution, but again, getting to see multiple performances over a week gave me still a wider appreciation of their deep well. In my teens there were few guitarists that inspired me as did Johnny Winter. I saw him so many times. As tough as it is to see him so frail, I could not help but be inspired by the dogged determination in as eyes, as I sat right in front him on the deck. I'd been a fan of Marcia Ball for years. We had breakfast one morning, and I encountered such a lovely charming woman. We had a fantastic conversation, and found we had a dear friend in common… Cookie gave us an introduction ( or, as someone said "a Coronation", that brought tears to my eyes…) -I could go on for hours, but won't, cause I'm sure you must have to pour through many letters like this, after every cruise.
When you and I started talking person-to-person a few years ago about the possibility of having CAFE R&B on board, I told you that whatever we were (or weren't) able to work out, that appearing on your Cruise was one of the major goals on our dream "to-do" list. Well, you made that dream come true, and I hope we've met your expectations. You certainly met ours.
I want you to know how very much I appreciate the respect, and care, that You, Tracy, Mardi, and everyone in your organization have shown us. It means more to me than I can express. From all of us, a sincere thank you for letting CAFE R&B share in your Legendary endeavors… and now that I've soaked up the vibe, a bit -should we be asked aboard again, we'd love to host a Jam one night!"
– With respect and admiration, Byl Caruthers Cafe R&B
---
"Losing my virginity was much more fun the second time around!"
– Nancy E. aka Blues'n'girl
---
"I want you to know that being on the Blues Cruise is one of the best experiences of my life. I had a great time and got to meet some of the coolest people. I have never enjoyed staying up, losing sleep so much. My wife Gaynielle enjoyed sharing her cooking skills in the gumbo cook off as well. I've never had so much fun. Thank you."
– Cyril Neville
---
"It's one of the few experiences that actually delivers as advertised. It really is as good as it gets for a serious Blues fan. The music literally never stops. As I write this, several passengers just fired up a jam next to the pool; it's 9:30 in the morning. I'm sure if I took a little walk to another part of the ship… there's more music!"
– Cruiser Kathy Minke, BluesWax
---
"It's amazing, The cruises are probably the best thing that's happened to the blues in years. It's a shot in the arm for Blues music in general. All the musicians get together – the top blues guys from the old guard and the new."
– Tommy Castro
---
"This is the hippest group of white folks I've ever seen."
– Millie Jackson during 'Milliology' in Jan. '06
---
"Honestly, the last cruise was life-changing, and I am not over exaggerating. I was so inspired by the musicians on the ship that I decided to let 15 of my students go to give myself the time needed to study music with a teacher and to write songs more frequently. For the last twenty years, I've been so focused on making a decent living by spending the majority of my time working, that I lost focus on what brings me the most joy – which is the music itself. Especially after a long pandemic, the LRBC reminded me how much I value connecting with musicians and being surrounded by so much great talent. It means so much to me and my development as an artist, not to mention the undeniable benefits to my quality of life. I am still inspired, many months later!" – JW-Jones [ Billboard Top 10 Blues Artist, IBC Winner, Maple Blues Award Winner ]
---
"Thank you very much for unforgettable experience of my first Pacific Legendary R&B Cruise. No need to say it was a lot of fun and pleasure to listen and see a brilliant line-up of American blues musicians. For sure it was worth traveling over 8,000 miles to another side of the globe. I have already recommended R&B Cruses to many of my friends, so please do not be too surprised if hordes of Russians one day will embark one of your cruises. (Just kidding). Please pass my very best regards to your Legendary Team, which is very professional, helpful and pleasant to deal with. Sincerely yours…"
– Boris Rybak, cruiser
---
"I was amazed and pleased by the positive interaction among fans and musicians of all races and backgrounds. This cruise easily beat any music festival experience I've ever had."
– Award-winning Filmmaker Robert Mugge
---
"Here I am, back home in Israel, sitting in my study, with a Kenny Neal CD I bought on the cruise in the background  – it seems a long way away! Anyway I just have to thank you again – I think that it was possibly even better than the year before – the musicians were so great and it was so hard to decide what to go to . There were such incredible jam sessions, both in the piano bar ( my favourite place) and  on the main stage… the musicians seemed to be enjoying themselves so much , and the atmosphere was terrific. When people ask me where I've been I say to a week-long party with the best music in the world! I am trying to bring some friends next year and see the pre-booking is already closed – which means everyone wants to come again! I certainly do! ( I pre-booked earlier…) See you next January I hope!"
– Jennifer, cruiser
---
"My eyes swelled up in tears when I realized I had to get off the ship. It felt like home."
– Biscuit Miller
---
"The best gig we've ever played!"
– Jimmy McCracklin (after 60+ years of performing)
---
"…so where does the LRBC fit in? It is just plainly, simply, purely the greatest device ever invented to scratch that infectious itch we all share.
Muddy would be proud of us."
– Dave Fertig, Big City Blues Magazine
---
"For those who never sailed; believe me, it will change your life forever!"
– Ana Popovic
---
"We all had an amazing experience. What a wonderful group of people you bring together, truly the best blues festival experience I have had in the 15 years of touring."
– Tim Duffy & the Music Makers
---
"You do the most inedible job of providing the most perfect venue, music, and people who love the blues. Every year it just gets better. All the people you work with seem to do what they do with pride and love. To make a trip like this possible with every one looking so calm and every thing always seeming to go so smoothly — JUST INCREDIBLE. The work it takes I can't even imagine. My wife and I with our sons have a family business (4th generation) and I understand when your life-business-love all can work together. It can be real magic, and that is what you have created. We have met more wonderful REAL FRIENDS on your cruises than we have met in many years. I hope to do it for life! My best to you and be well."
– John Skalet, cruiser
---
"I don't even know how to describe the enjoyment of this last October cruise. The musicians and cruisers I was blessed to meet were absolutely wonderful. I, being one of only four trumpet players on board, had no idea I would be jamming with such fantastic performers as Curtis Salgado, Tommy Castro, Marcia Ball, Chico Banks, Bernard Allison, Ronnie Baker Brooks, Eden Brent (in the piano bar), Joe Louis Walker, and their band members at the pro-jams. It was a dream come true. In fact, two weeks after the cruise, Tommy Castro's band came to Seattle and performed at the 99 Club, plus asked me to play part of their second set with them. What an honor. I freelance with a number of bands, in the Seattle area, performing, writing horn parts, and recording. However, since the cruise, I have decided to start a band of my own through the encouragement of Randy Oxford. My most gracious thanks for an experience I will always treasure and hold dear to my heart. WOW."
– Ron Hendee, Granite Falls, WA
---
"I've never seen so many diehard blues fans in one place at one time. People are crazy about the music and that's the way it should be! My first blues cruise – I like watching all the other bands, just hanging out with the other musicians and the people that we never get to see hardly and then you end up seeing them for seven days straight which is kind of rare for us for that long of time. If you are totally into the blues and don't mind listening to music and hanging out all night long, this is definitely for you. I'm glad we're going back. It's a wonderful time of year. February is the worst winter month of the year. Going to the Caribbean during that time is definitely a big plus for me."
– Shemekia Copeland
---
"THANK YOU, THANK YOU, THANK YOU! Sorry it took a while, but that's entirely due to the fact we are still in blues heaven! Over the years we have been fortunate to see many parts of the world and had wonderful holidays but, by God… This cruise beats them all! I've been a blues fan all my life and my wife has never understood my kind of music. Now, she insists on:
1. Getting back on board again
2. Fly to Norway in July to experience Trampled Under Foot during the Notodden Blues Festival
3. Drive to Amal (Sweden) to see The Holmes Brothers
…etc. etc. !!! She just loves it! I just feel a bit sorry it took 30 years of marriage for her to understand this is life… I have to say everything onboard was so much better than we expected. The smooth, relaxed atmosphere among equals and what really surprised us was the fact we didn't see one single individual "crossing the line" during the whole cruise. Amazing and outstanding! Once again. A million thanks to all of you. Keep Bluesin'!"
– Jan and Lena T., cruisers
---
"Just wanted to let you know we've made it back to West Australia (36 hours travel from LA) and our "Blue Highway" award for furthest travelled now has pride of place in our house. Thanks for a great cruise – we had a ball – and for the honour of meeting Mavis Staples, one of the nicest humans on the planet. Now to get to work clearing our Visa bill and start saving for our next cruise. All the best!"
– Alan and Linda C. (& Archie M.), cruisers
---
"This is probably the most beautiful thing I've ever been a part of. The people have been so sweet and wonderful. Watching how joyful everybody is has just been wonderful. I don't think anything in my life could touch this experience."
–  Chris Cain
---
"The Blues Cruise is music that melts. It melts in your mind."
– Taj Mahal
---
"I always have a great time. I've been on the cruise with Elvin Bishop and Roy Rogers, and this one with Chris Cain, which has been magical and wonderful. The whole thing is wonderful."
– Steve Evans (bass player)
---
"What I like the most is that I get to see some of the people I don't get to see a lot of because we're always in different places; I don't even have to drive across town to see 'em, I just get up and go see 'em. Plus they feed ya!"
– Jimmy Johnson
---
"I haven't had so much fun with my clothes on since I can remember!"
– Mike Finnigan (Phantom Blues Band)
---
"This is an awesome cruise and I'm having a wonderful time. But I'm working, so I shouldn't be having a "wonderful" time, because the wonderful time is wearing me out. The work is easy, but the wonderful time is getting to me. [laughs] These people are the craziest people I've ever seen."
– Bettye LaVette
---
"The Blues Cruise is one big festival on a ship, with many stages. It's a big hang with the fans and the musicians for seven days. There isn't another event like this anywhere. We are one big happy family on the ship; plus if we need a little space, we have a cabin to go to."
– Lee Oskar
---
"It's Woodstock on the water. Trust me, there are so many great blues artists here, it's Woodstock on the water, baby."
– Bill Sims Jr.
---
"First, I get to play with the best band in the world; I'm playing with Kenny Wayne Shepherd and we're having a lot of fun playing some blues. We're rocking, then going to watch other bands that are our equals. We're just having a real good time."
– Buddy Flett
---
"The Blues Cruise totally frickin' rocks, man!"
– Shemekia Copeland
---
"It's a lot of fun to get away from home for a little while and kind of be isolated on this boat with people who are absolutely nuts about this music. They are great, really dedicated, wonderful, friendly and loyal fans; and they are a lot of fun to hang out with. For us as musicians to be in this situation, to get the opportunity to be with people who love this music so much, it really does a lot of good for our hearts and our souls. We feel like we get fed by these people. It's a healing experience, with a lot of great energy coming our way for what we do and work hard for all year round."
– Tony Braunagel (Phantom Blues Band)
---
"It's the most fun you can have standing up."
– Johnny Lee Schell (Phantom Blues Band)
---
"You wouldn't even believe what I feel about the Blues Cruise. It is such a joy, such a chance, such a challenge and such greatness. I almost can't stop telling you what a great time it's been and I hope we come back."
– Phillip Fankhauser
---
"Hey baby, if you ain't been on it, you are missing out all together. This is the most fun ever. We're listening to blues and having a great time together. I don't know anywhere else you could go and get something as wonderful as this, especially all the great musicians and great fans."
– Rod Piazza
---
"It's absolutely the greatest time. The greatest time for the fans and for the musicians; you can't ask for a better environment."
– Coco Montoya
---
"Well, it's really more like the love boat. It's a blues family; we are all very connected. I've got a do-not-disturb sign on my door, but nobody seems to pay attention to it. [laughs] I've had company 24-7!"
– Eden Brent
---
"Awesome! That's all I can say. Awesome! You [readers] should be here with us rocking at Club 88 all night long."
– Mitch Woods
---
"It's like this, once you do it, you'll be wondering why you didn't do it before. There are so many musicians and it brings everybody together. It's really a wonderful thing, because blues is not promoted the way pop music is. So we're a community – you know white, black, yellow, gay, straight, you know whatever – and the friends you meet on this cruise will be your friends for the rest of your life."
– Joe Louis Walker