#34 Jan. 2020 Western Caribbean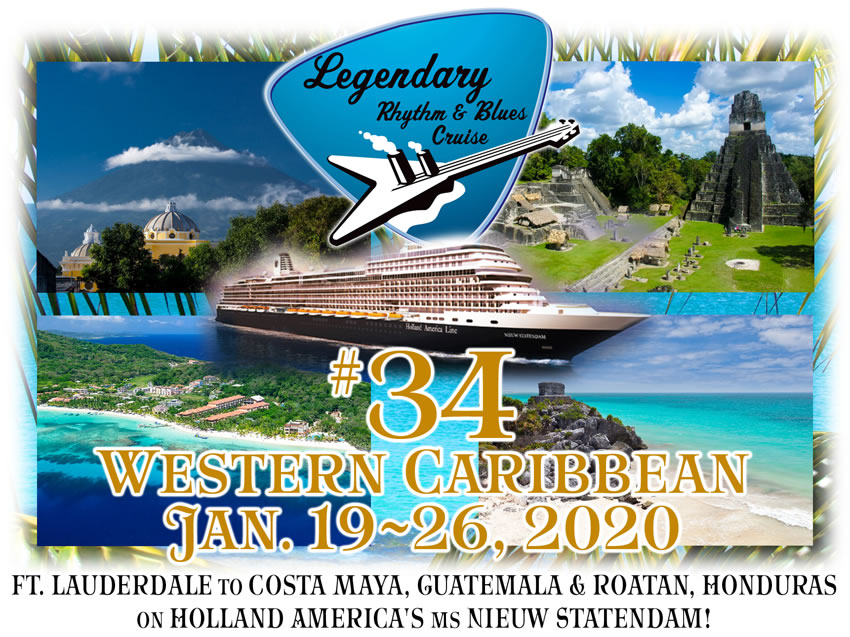 LRBC #34 Western Caribbean | January 19-26, 2020
Bluesin'® On The High Seas from Ft. Lauderdale, FL roundtrip to Costa Maya, Guatemala & Roatan, Honduras on Holland America's ms Nieuw Statendam!
By placing your $500 per cabin, fully-refundable prebook deposit, you will be guaranteed a spot in line to book a cabin once the artist announcement has been made! (likely in March or April '19).
Additional passengers may be added once you select your stateroom. Detailed instructions on how you may select your stateroom will be included in the official artist announcement.

Discover the Nieuw Statendam here! | View Deckplans
Note: Ports subject to change.
---
— Prebook Group Breakdowns —
Please read through each group to fully understand group placement!
Those who prebook will be placed in a cabin selection group based on the following criteria:
Charter Cruisers: Those who have sailed on at least one LRBC cruise per year since 2002 will have first choice of staterooms.
Group 1A: Those who sail on BOTH the October 2018 cruise and February 2019 cruises.
Group 1: Those who sail on the October 2018 cruise or the February 2019 cruise – OR – Cruisers who have previously sailed on a total of 10 or more LRBC cruises regardless of cruise dates. Passengers placed into group 1 will be broken down into subgroups by their total number of past cruises.
Group 2: Those who will not be sailing on either the October 2018 or the February 2019 cruise and have not sailed on a total of at least 10 LRBC cruises. Passengers placed into group 2 will be broken down into date and time order in which your prebook deposit was received.
VERY IMPORTANT IF PREBOOKING FOR OTHERS:
Both parties deposits and cabin selections must be made over the phone. Unfortunately, no part of either reservation will be able to be handled online due to the restrictions of our reservation system. If you will be placing a deposit for someone other than yourself, please call our office at (816) 753-7979 and we will be happy to assist you over the phone.
Please Note:
Only one $500, fully refundable deposit will placed per CABIN. The person who places the deposit will be the only contact for the reservation. Prebook deposits are non-transferable. The person who has placed the deposit will be the only person with access to the reservation to select the stateroom. Multiple reservations cannot be made under the same name. Additional bookings under the same name will automatically be cancelled and refunded.
In order to Prebook, your user name and password is required to access the reservation system.
Forgotten your user name and password? Click to reset.
Need help creating an account? Please email or see Booking FAQs.