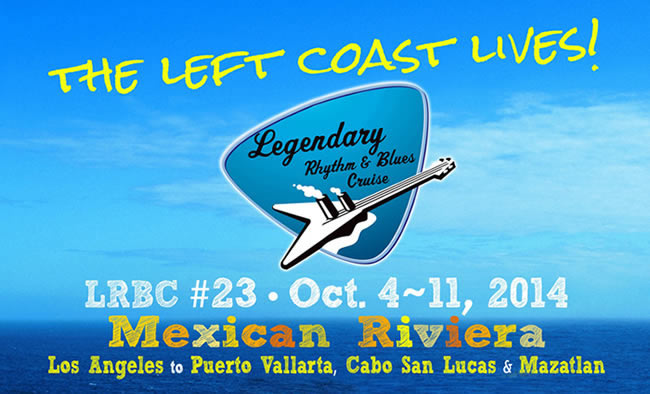 LRBC #23 Mexican Riviera • Oct. 4-11, 2014
Los Angeles to Puerto Vallarta, Cabo San Lucas & Mazatlan on the NCL Sun
Artist Lineup:


World Blues - Taj Mahal Trio, Bassekou Kouyate
& Deva Mahal w/ Fredericks Brown

Elvin Bishop w/ Special Guest Roy Gaines

Legendary Rhythm & Blues Revue w/
Tommy Castro Band, Magic Dick, Ronnie Baker Brooks, Deanna Bogart

Tommy Castro & the Painkillers

Ronnie Baker Brooks (7-piece band)

The Mannish Boys Revue w/ Curtis Salgado, Lloyd Jones, Sugaray Rayford, Kid Ramos

Colin James (Canada)

Curtis Salgado / Lloyd Jones Duo
Piano Bar Hosts:

Randy Oxford (Jam Host)
plus Special Guests!
* * * * *
ITINERARY:
Oct. 4: Los Angeles | Depart 5p
Oct. 5: Bluesin' At Sea
Oct. 6: Cabo San Lucas | 2p – 9p
Oct. 7: Mazatlan | 10a – 5p
Oct. 8: Puerto Vallarta | 8a – 4p
Oct. 9: Bluesin' At Sea
Oct. 10: Bluesin' At Sea
Oct. 11: Los Angeles | 8a
NCL SUN CATEGORIES & PER PERSON RATES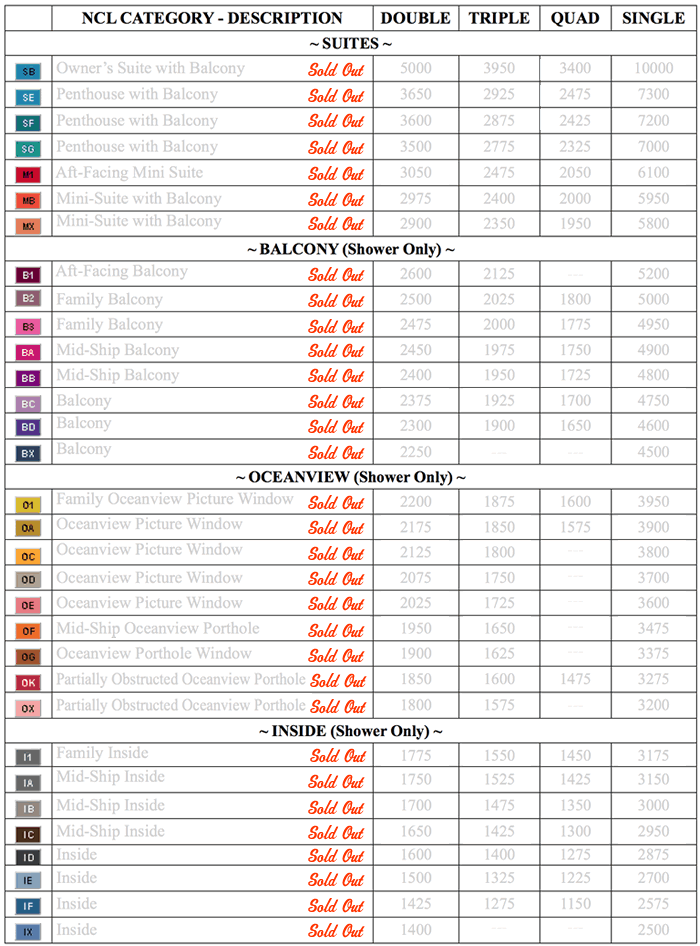 Visit NCL Sun website for Deckplans and Cabin Descriptions.
- Additionally, pre-paid ship/port fees are $220 per person -
- Fuel surcharge to be announced no later than 30 days prior to sailing -
- Gratuities will not be pre-paid but collected on-board by Norwegian Cruise Line -
FINAL PAYMENT: July  3, 2014
GRATUITY RATES:
All Suites and Staterooms- $12 per person per day
Cancellation Schedule:
Prior to June 4, 2014: $250 per person
June 5 – July 3, 2014: $500 per person
July 4 – August 15, 2014: 50% of total cost
August 16, 2014 & after: Non-refundable
* * * * *
Very Important: In order to join the #23 Mexican Riviera Wait List you will need to have your user name and password. This will allow you to access our reservation system. If you have forgotten your user name and password, click to reset. Unsure whether or not you have already set up your user name or password or need help creating an account? Please email Bluesin@BluesCruise.com.
Or call (816) 753-7979