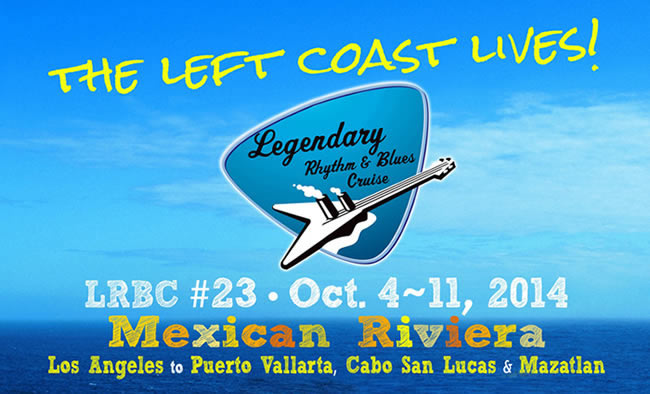 LRBC #23 Mexican Riviera • Oct. 4-11, 2014
Los Angeles to Puerto Vallarta, Cabo San Lucas & Mazatlan
Sailing on the NCL Sun
Artist Lineup & Cabin Pricing coming soon!
A $250 per cabin deposit holds your spot in line to book a stateroom.
Line-up and cabin selection dates will be announced as early as November.
Very Important:
In order to pre-book for the #23 Mexican Riviera cruise you will need to have your user name and password. This will allow you to access the reservation system and place your $250 per cabin deposit. If you have forgotten your user name and password, you may click here to reset it. Unsure whether or not you have already set up your user name or password or need help creating an account? Please email Bluesin@BluesCruise.com.
- – -
Pre-Book Groups | Please read through each group to fully understand group placement.
Those who pre-book will be placed in a cabin selection group based on the following criteria:
Group 1A: Those who sail on BOTH the January 2013 cruise and October 2013 cruise and also our Charter Cruisers.
Group 1: Those who have sailed (or are sailing) on either the January 2013 cruise or October 2013 cruise and Cruisers who have previously sailed on 5 or more cruises regardless of cruise dates. Those placed into Group 1 will be broken down into subgroups by the total number of days sailed.
Group 2: Those who will not be sailing (or did not sail) on January 2013, October 2013 and have not sailed on at least 5 LRBC cruises. Those placed into Group 2 will be broken down into date and time order in which your pre-book deposit was placed.
Group 3: Those who do not place their own deposits. Group 3 will be reserved for those who have their pre-book deposit paid for by a 3rd party regardless if they have sailed on a previous cruise or which cruise they have sailed or will be sailing October 2013. If you choose to place a deposit for a passenger who will not be sailing in your stateroom, their deposit and cabin selection must be made over the phone. No part of the reservation will be able to be handled online.
Please Note: Only one $250, fully refundable, pre-book deposit will be accepted per CABIN. The person who places this deposit will also be the only contact for the specific cabin selection that will be assigned. Pre-book deposits are non-transferrable, therefore, the person placing the deposit will be the only person who will have access to the reservation and be able to select the cabin on their assigned date. Only one deposit can be accepted from an individual as we do not allow any one person to hold multiple cabin reservations.